If you are reading this then you probably are about to or have already started to move to your new home, so congrats! However, if this is the case, you are going to be needing to figure out exactly how you are going to pack up everything and move it all out without you having to spend too much money, breaking one of your favorite nick nacks, or breaking your back. So, we have put together a list of tips that will certainly help you through this part of life.
Getting Rid Of Everything
Alright, so maybe you don't have to get rid of everything. However, you are going to want to go through everything and make sure that you are not just packing junk that you and your family never use. This way you will feel less pain with the move, and you won't take as long to do the moving. The best time to do this step is when you first know that you are going to be moving, don't procrastinate with this step.
Sort Things Into Categories
When you are packing it is much easier for everyone if you label and sort things prior to moving. This way no one has to make a mess out of the new houses dumping boxes just to find their laptop or favorite blankie/toy. The best way to do this is make sure you start a list. On this list you should make a spot for each person in the house, and make a seperate list for important things that person has and the non important things. For instance: little Joey has his favorite blankie that he can't sleep without, but he also has all of those toys that he only uses sometimes.
After having gone through and made the lists, you are then going to want to label boxes/bags and make sure that every room has been packed up separately (dining room boxes, joey room boxes, mom room boxes, dad room boxes, kitchen boxes, living room boxes, etc.).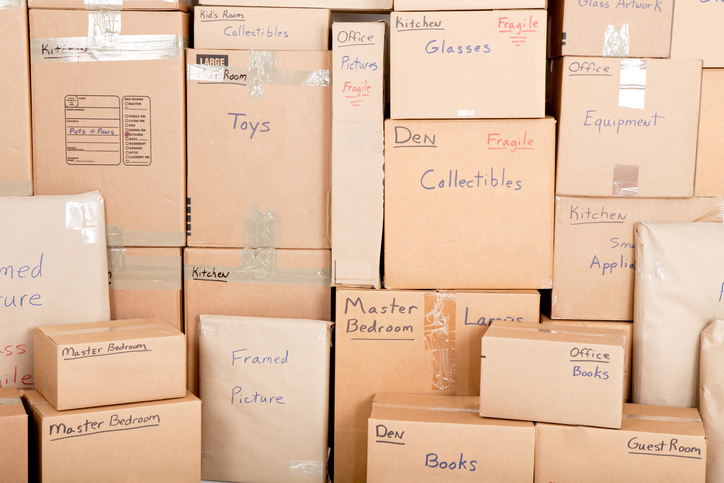 Put Things In Sell Pile
If you are moving and find stuff that you no longer need or use, create a sell pile and a garbage pile. Don't go putting your old tennis shoes in the sell pile (no one wants those hole-filled shoes). However, things like old TV's, old toys, old kids clothes, and older (but not hole-filled) clothes of yours, etc. can go into the sell box.
Important to Remember Items
When you go to the store to buy things you need for moving, you are going need to remember a few things. So, don't forget to make a list of things such as packing tape, packing paper, cardboard boxes, screws, a very large broom, cleaning supplies (possibly), putty, a box cutter, and measuring tape. Of course, you will also probably have other things to add to that list, depending on what you are doing and how the move is going to go over. If you are moving across the country you might want to remember a list of places to stop along the way for food and sleep as well.